A new and better way of selling season tickets
Through the implementation of a centralised ticketing solution and the adoption of a subscription model, the Norwegian Professional Football League has experienced impressive surge in ticket sales.
A unified ticketing solution through a centralised league agreement and a subscription model similar to Netflix and Spotify is highlighted as two of the key reasons for the success that the Norwegian top tier league is experiencing this season.
In this article Thomas Torjusen, Head of Media, Technology and Chief Digital Officer at the Norwegian Professional Football League, explains just how the league has catered for their own success.
"There is not one right answer to why we now are succeeding big time across the league, where the ticket sales haven't been higher for the last ten years. It is a combination between several factors combining both long term working on joint solutions, new broadcaster, interaction with fans and great work from the clubs and partners. In the following I want to talk more about two sides of it," says Thomas Torjusen.
"Both our league agreement and our newly launched subscription model have been instrumental for the numbers we are now seeing. Combined with a new television partner who has thrown every resource available into the mix, we are seeing some remarkable results," he states.
The league agreement
Let's start where the foundation for the current success was laid back in 2019, when the Norwegian Professional Football League entered a ticketing league agreement with TicketCo.
"Norway is in many ways a difficult country for football clubs and football supporters. We're only 5.5 million people up here in the north, and the distance between our southernmost and our northernmost point equals 1,676 kilometres (1,041 miles). That is the same distance you'll fly if you take off from London Heathrow and land at Málaga Airport in Spain."
"This means that Norwegian clubs won't see numbers equal to English football. We are simply too few inhabitants with too long distances between us to achieve that. But when we look at spectators in percentage of inhabitants we are amongst the top three in Europe."
"The stadium capacity in our premium league – Eliteserien – varies from 21,421 to 4.500. In tier 2 – OBOS-ligaen – the capacity varies from 12,560 to 1.473. We've got 32 clubs in total in these two leagues playing 480 matches in total per year," says Mr Torjusen.
As Head of Media, Technology and Chief Digital Officer at the league he is a part of the team responsible for selling as many seats as possible for these 480 matches.
"I've been at the league since 2012, and ever since my start one of our key objectives has been to fill more seats or more bums on the seats as it is called. We are sure that having the right tools helps, and in 2012 we established a common media platform for all our clubs. The following year we introduced a common CRM solution. Six years ago, we then started to look into the possibility of a unified ticketing league deal, and after having considered various possible vendors, we decided to go with TicketCo in 2019."
"We had several crucial criterias we considered before making this choice, and one was of course the tech itself. Another important aspect for us was short decision lines. We didn't want a supplier where decisions are being made somewhere far away at a headquarters several layers above our contacts. We wanted our contacts to be decision makers themselves since the product we signed up for wasn't off the shelves. It was in the making, and it still is."
"Together with TicketCo we are constantly working on improving our ticketing solution as well as the customer journey, which is one of the really big benefits of a league agreement. One by one most clubs are too small to require product development from their vendors, but together we are powerful enough to achieve tailor made solutions."
"Another huge advantage is of course the price, where the same logic comes into play. One by one we don't have strong enough negotiation power. Jointly we have massive negotiation muscles," says Mr Torjusen.
Just like his counterpart TicketCo, he can't understand why league agreements still are rare and not the standard across European football.
"Besides us, all I'm aware of when it comes to league agreements within football is Sweden and Belgium. That's a mystery because it has so many benefits. Lower costs and more tailor made features are only two of many benefits. Another one could be unified solutions for away tickets, which is a big pain across all tiers of professional football. Handling away tickets across different ticketing solutions is a logistical nightmare that easily can be avoided by choosing the same supplier," he asserts.
The right media partner
Choosing the right media partner is another key decision for any league, and this decision should consider both the direct revenue it will produce, and equally important – the revenue it will produce at the ticket office at each club because of the media coverage it will generate.
"From this season on and for the next 5 years we have TV2 as our partner, which is the largest commercial broadcaster in Norway. We saw an immediate effect when they threw all their editorial and marketing muscles into building Norwegian football as an even stronger product."
"TV football with packed stands is a completely different product from TV football with sparse stands, and it is not so that TV2 and the clubs are competing against each other to attract the same audience. Instead TV2 is creating a lot of attention around each club, and the clubs are then utilising this attention to sell tickets. This again is resulting in a better experience for the TV audience. It's a win-win situation," says Mr Torjusen.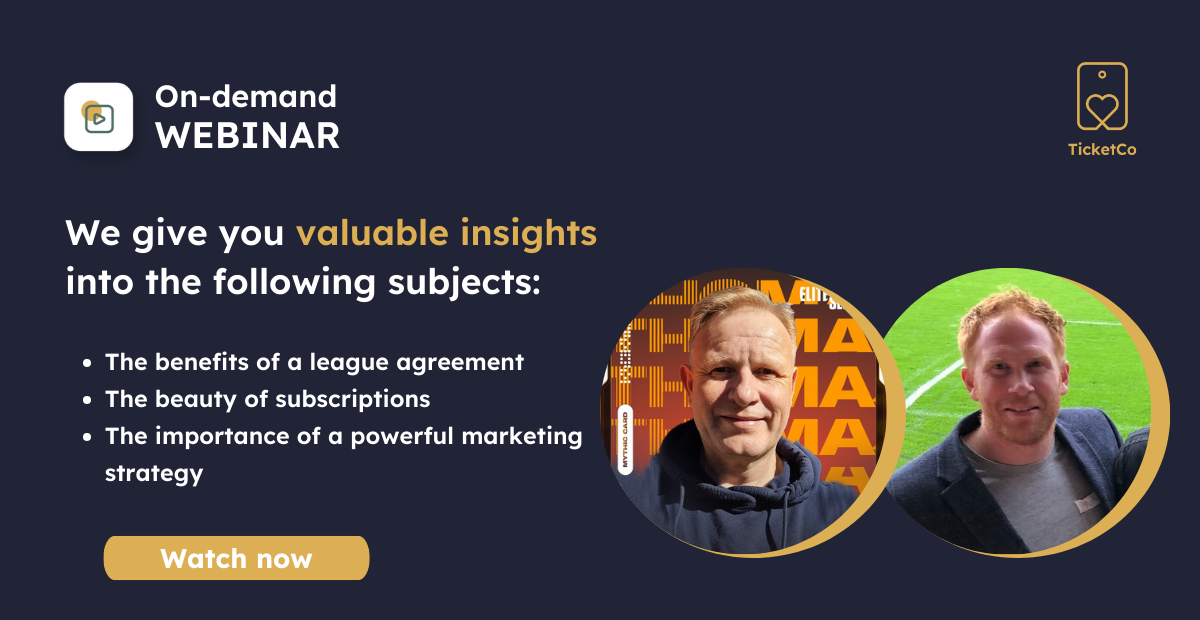 And with that short interlude we are now at the point where today's hottest potato is up for discussion: Subscriptions!
"If the timing ever has been right for a feature like this, then now is that time," says the Norwegian Professional Football League's Head of Media, Technology and Chief Digital Officer.
"We are seeing a cost-of-living crisis spreading across Europe, and the traditional season ticket sales with one big payment up front for a whole season of football is a heavy burden for a lot of football fans. This represents a big risk for the clubs, who may risk a substantial churn. It also means that there needs to be done a massive renewal job to avoid this loss of income."
"Why risk this churn? And why do this massive renewal job repeatedly each year, when a monthly subscription model with auto renewals and the cost spread across 12 monthly instalments can solve both problems at once?"
"Last season several of our biggest clubs tested subscriptions as an alternative to their traditional season ticket, and one of our clubs even made it their only solution available. The success was indisputable. There were of course some teething issues, like there always will be when you launch something completely new even before it's fully deployed, but the advantage was bigger than the pains. And from this season on we are seeing no more of these problems, we are only seeing advantages," says Mr Torjusen.
Proof of concept
He and his team consulted FC Copenhagen's Ticketing and Customer Service Manager Mikkel Bjerre before initiating subscriptions and received lots of advice along their way.
The Danish top tier side was the first known football club to offer subscriptions to their fans when they launched this back in 2018, and earlier this year Mr Bjerre visited TicketingPodcast.com where he gave an insight into the club's experiences with this solution.
"From the beginning it was a huge success, much more that we had dreamt of and much more than we really dared to hope upon. It was especially the age group of around 15 to 24 years old that really started to purchase subscriptions. They had never purchased a season ticket before," is one of Mr Bjerre's direct quotes from this podcast.
"This has just continued throughout the years we have been working with subscriptions," is another one.
For Thomas Torjusen and the Norwegian Professional Football League, FC Copenhagen's experiences served as proof of concept even before introducing a subscription model themselves.
"We knew what we wanted when we asked TicketCo to develop this feature, but even more important: We knew that it worked! You don't have to look any further than at yourself and your own habits to recognise that this is how it must be for football clubs in the near future."
"You're not paying for your Netflix or Spotify subscriptions one year at the time, nor your newspaper subscriptions, leasing agreements or whatever it may be. You are paying month by month, automatically, without having to worry about it for one split second. That is how it will be within football also, sooner or later, and as we all know: being an early mover has great advantages and will save you and your club or league from being run over by evolution.
Do or do not – there is no try Mr Torjusen concludes – leaning towards the wise words of Yoda.